PIVOT! Fresh starts and seeing clearly in 2020.
Updated: Feb 18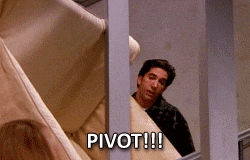 Friends fans will no doubt hear Ross Geller ringing in their ears but while a "PIVOOOOT" might not work to get your couch up the stairs, it can absolutely be what you need in life or business. Sometimes you just have to sidestep or change directions.
If something is no longer serving you or your business, consider doing things differently. In the last quarter of 2019, I changed directions by closing the doors on my life-long dream of owning my own organizing company. And it's alllllll good.
You see, sometimes what you THINK you want and what you ACTUALLY want turn out to not be the same thing. I missed being a part of a larger team and felt like I had skills laying dormant that needed to be awakened again. So I made a change and found an even better fit!
Pivots can be helpful and healthy while seeking to progress your own professional growth and also within an organization. Particularly in a startup. Since joining HomeEXCEPT, I've learned that successful startups need to be able to shift directions; slightly or drastically, within a few months or at the drop of a hat, changes are often necessary in order to meet and keep up with industry and market demands.
In that generally hazy period between Christmas and the New Year, our CEO had a realization as we quickly approached the end of the calendar year. We needed easier installation and additional features and if we followed along our original timeline, it would take too long. The market needs it NOW and we have to respond.
So, while our roadmap remains relatively unchanged, we rearranged a few things in order to give more urgent features priority development status. Now we're only a few short weeks away from launching Version 2.0! We're EXCITED… and burning the midnight oil.
Modifications to our plans are sometimes exactly what we need but when you decide to make a change, like switching careers or adjusting your company's roadmap, it can be easy to feel like you're back peddling or losing progress. Remember: efforts are rarely ever a waste of time; in fact, you might not have even become AWARE of the need for a change in direction if you didn't walk as far down the path as you did. It's all part of the process.
Fresh starts don't always mean starting over. It's about re-evaluating what's working and what's not and moving forward with a renewed perspective. Choose to learn and grow from your experiences and focus your energy on what will help you create the life and business you want. Change is good!
Want to learn more about HomeEXCEPT and Non-Intrusive Monitoring?
Visit HomeEXCEPT.com or email your questions to info@homeexcept.com